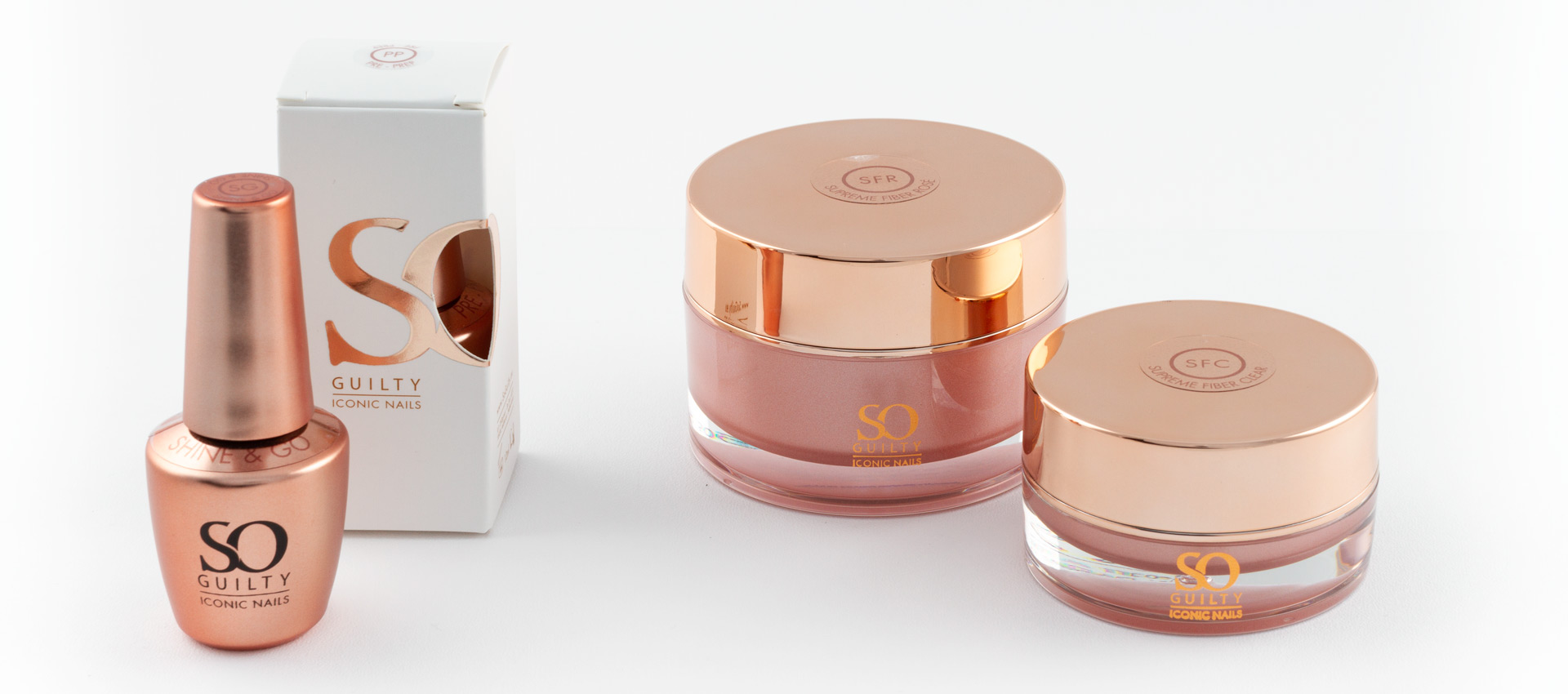 The So Guilty gels have something to offer for every type of gel nail. There is a very large diversity and everything is possible with our gels. We are happy to advice you so you can provide the best possible products to your customers. You will receive exactly what you and your customer need!
In a nutshell:
Flexible gels and more solid gels;
A firmer gel to easier apply extensions with stencils and even apply gel on multiple nails at once;
work faster thanks to self-levelling properties;
time saving UV/LED-gels with faster curing time such that you can shorten the treatment time, which is more enjoyable for the customer. This way you can help multiple customers at once or take some time for yourself.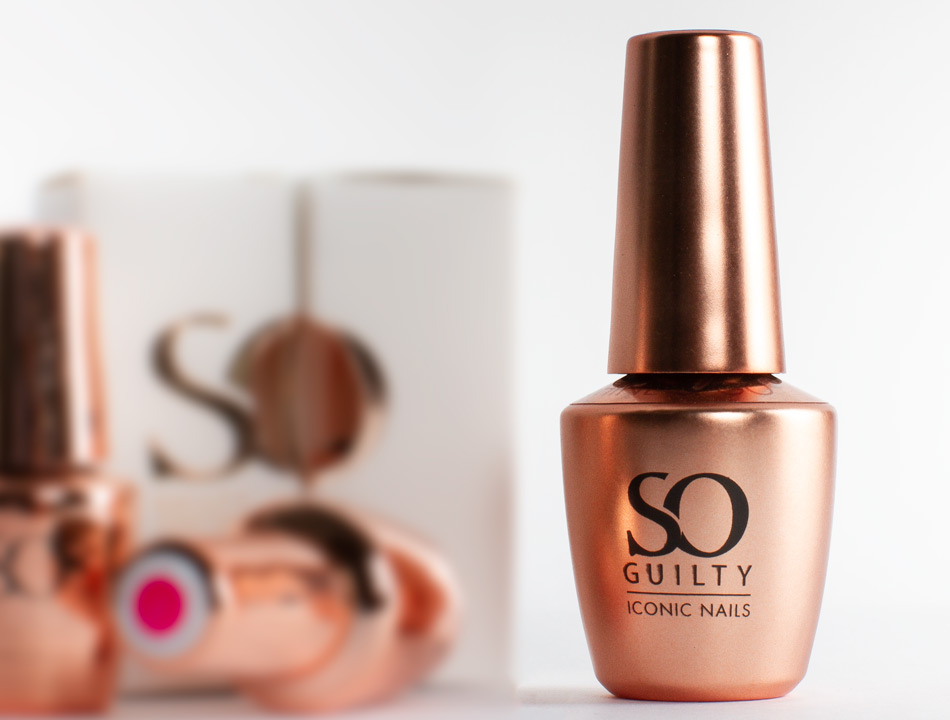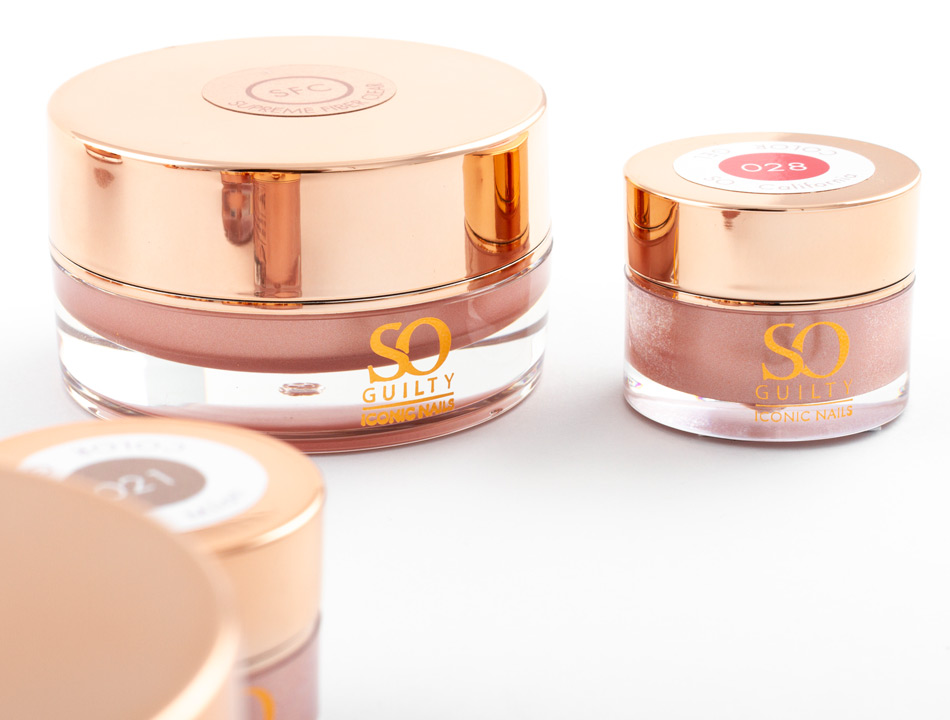 Each gel nail has its own unique quality, application and technique. Choosing the right gel depends on the desired final result, your level of experience as a nail artist and your customer's type of nail. Flexi Builder gels are the most suitable for thin, flexible gel nails as they ensure a durable adhesion. Hard Builder gels are an excellent choice for normal and strong nails. Camouflage gels are perfect to mask nail imperfections. You see, we have the perfect gel for every type of nail.
The So Guilty – Iconic Nails gels are unique, every effort has been made to prevent adhesion problems, such as for example our acid-free Breeze Bond, which ensures extremely good adhesion of both gelpolish, gel and acrylic.
Other unique qualities:
Air-drying, no UV / LED light required;
Healthier for the natural nail;
Prevents lifting;
Easier to apply;
Odourless;
The gel does not burn on the natural nails.
The base provides an extremely powerful bond, especially for nails that tend to easily lift.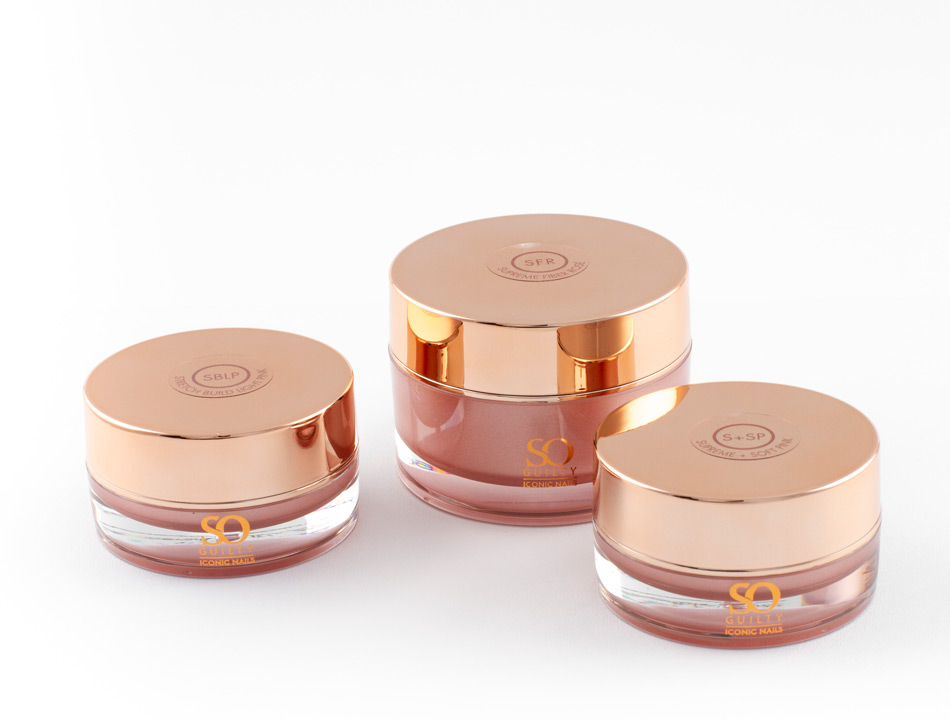 Our range of building gels, also usable as a base coat, consist of 3 mayor lines: Stretch Build, Stretch Build Supreme Plus and Supreme Fibre.
Supreme Fibre
Supreme Fibre contains fibres and is almost as hard as acrylic, ideal for people who are harsh with their nails. Also, you are still able to repair cracks. This one is a bit firmer than the Stretch build but is still self-levelling.
Both of these exist in various colours but also come in different shades of whites and camouflages to obtain a beautiful effect without having to compromise on firmness or flexibility.
Stretch Build
Stretch Build has a more flexible effect and is self-levelling.
Supreme Plus
Supreme Plus is a solid gel that allows you to make extensions with stencils without having the gel running out. This gel will not run in the cuticles, which for beginners means that they have plenty of time to model the nails perfectly. As a professional you are able to work quickly, it is possible to apply 5 nails at a time before putting them into the lamp. Supreme Plus comes in the colour Soft Pink, however all of our gels can be used together. For example, you can apply the Stretch Build first, below the Supreme Fibre. This way you can combine flexibility and strength, all in one. Everything is possible.
Each customer's nail structure is different, that is why it is essential for our products to be able to adapt to every need. Of course, us women have our preferences, we at So Guilty – Iconic Nails confess, we are guilty to that. It will always be possible to combine ideally and to choose a perfect gel, while still respecting the needs of your customer. Our gloss layers are also adjusted to you and your customer. Do you want to maintain a unique shine and do you preferably want to have a topcoat with a sticky layer with our Top & Art? That is possible, it is also ideal to protect your nail art. Or do you choose to not have a sticky coat and to be done immediately, then go for our Shine & Go! Do you prefer the matt finish to create the trendy matt effect? Do not forget to cleanse it, for the nail to become beautifully matt.
So Guilty – Iconic Nail gels are composed based on:
The nail artist's preferences, which product do they like working with?
The customer's nail;
Quality and durability;
To work smoothly and quickly.
We also offer a very wide range of colour gels that ensure a perfect coverage. Discover our Foil it on to apply your nail art foil in perfect lines. What do you think about our One to Stroke gel?
An ideal in one layer covering opaque colour gel that is perfect for creating beautiful drawings, because it does not have a sticky layer.
Also, do not forget about our Polygel system, lighter than acrylic and most traditional gels.
It is a gel that is as strong as acrylic. The product gives superior adhesion, does not release any dust particles in the air and there is no acetone smell. A must-have for every nails professional or nail artist. Available as from August.